One of our many videos on YouTube, Long video.
Another video on YouTube, Short video.
Video - Go Karts Patong, short video.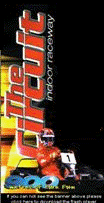 The Circuit - Indoor Kart with 2 amazing tracks,
one of the largest indoor go-karting tracks in the UK's northwest.









Sunrise Divers



Exotic Fishing Thailand - We provide the ultimate setting to catch and release 60+ exotic fish species while waiting for your monster fish of a lifetime. The big fish include; Arapaima over 350 lbs, Wallagoo Lieri over 110 lbs, Alligator Gar over 110 lbs, Giant Stingray to 200 lbs, and Mekong Catfish over 220 lbs.
Legends Sports Bar & Grill - In a quieter part of Patong on Soi Eden, The Original and the Best! Offers live sports on 5 flat screen TVs, full menu available, but their burgers are famous!
Koola Guesthouse - Located in a quiet area of Patong yet close to many things you will want to do to enjoy your holiday, such as beaches, nightlife, and shopping.